Watercolor Crash Course : Viceroy Butterfly
Dates: July 9, 2022
Meets: Saturday from 12:30 PM to 4:30 PM
Location: 126 Biggin Hall
Registration Fee: $69.00
There are still openings remaining at this time.
Brenda has developed a unique and condensed method of teaching so that students can experience the exciting medium of watercolor without the usual prerequisites. No drawing skills are needed. You will get right to work mixing colors and learning the basic techniques of watercolor.

The instructor will provide one of her original drawings, created just for this workshop, and all of the supplies necessary to complete the painting of a Viceroy Butterfly. You will be walked, step by step, through the entire process and in just four hours, you will have the satisfaction of finishing a small painting to take home. You will be amazed at what you can accomplish! This class is designed for adults.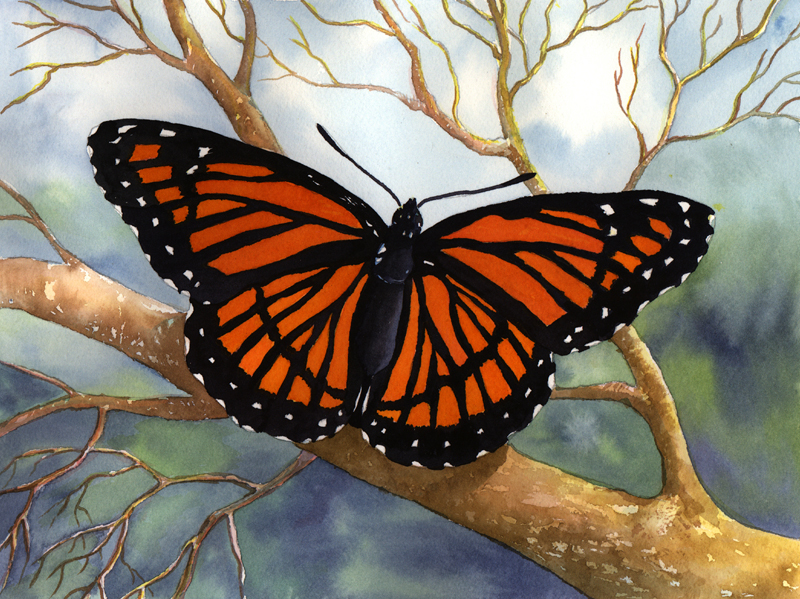 Notes:
Schedule: This class will be taught Saturday, July 9th, 2022 from 12:30-4:30 pm (CST). Location: 126 Biggin Hall Please enter the building through the NE (northeast) exterior door. Paste this link in your browser to locate Biggin Hall.: http://auburn.edu/map/?id=9 Parking: Parking for the class can be difficult depending on events on campus, there is a parking lot located behind O.D. Smith Hall that is available for public use on weekends, and usually has plenty of open spaces. To get to O.D. Smith Hall from 85, take South College street (Exit 51) approx. 3 miles, then take a right on E. Thach Ave and an immediate left to get to O.D. Smith Hall. Coming from North College street you would take a left onto Thach Ave. and then an immediate left to get to O.D. Smith Hall parking lot. It is then a short walk to Biggin Hall across the street. Materials: The supplies are provided by the instructor. Masks and Social Distancing: Masks and social distancing will be required to attend this class, unless the AU indoor mask policy has been lifted by class time. A mask will be provided if you do not have one. Those attending from the same household may sit together. Other students must sit 6 feet apart for the duration of class. Temperature Check + Health Screening: A temperature check and health screening may be required to attend class each night. Please call 334-844-3100 if you have questions or concerns about this policy. Alternate Class Location: Please note, class location could be moved to a larger classroom dependent upon social distancing requirements at class time. A final class location will be announced in the emailed course start reminder 2-3 days before class starts. Withdrawals & Refunds: If you are unable to attend a course for which you have registered, we ask that you notify the Office of Professional & Continuing Education (fax, or in writing/email) no later than three business days prior to the beginning of the course. A full refund minus a $20 administrative charge, is given when cancellation is made three business days prior to the first scheduled session; no refund thereafter. CONNECT WITH US! Find us on Facebook: Auburn University Community Courses
126 Biggin Hall
Auburn University campus